Editor's note
Today an American actress marries into British royalty. With some 5,000 journalists attending, Meghan Markle and Prince Harry's wedding is a global event. Small wonder, says Middlebury College's Laurie Essig. Even though most Americans are not married they still pay attention to royal weddings. "Since the wedding of Queen Victoria to Prince Albert on Feb. 10, 1840," she writes, "they've shaped the expectations Americans have about their own nuptials."
This weekend is also, alas, a tragic one for Americans. Yesterday, another high school shooting - this time in Santa Fe, Texas - killed 10 people and wounded 10. And this is only three months after the even deadlier shooting at the Marjory Stoneman Douglas High School in Parkland, Florida. "We should not have this in common," tweeted one of the teenage survivors of the Florida massacre. As the debate over what to do about gun violence hits the headlines once again, criminologist Frederic Lemieux disproves some of the common misconceptions about mass shootings.
Maria Balinska

Editor and Co-CEO
Top stories
Royal weddings have shaped how Americans imagine their own dream weddings. Unfortunately, they don't come cheap – which might explain why fewer and fewer are tying the knot.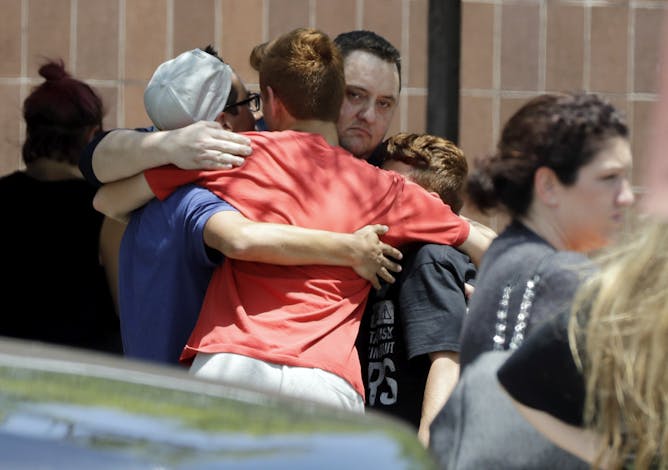 A criminologist reviews recent research to dispel common misconceptions about mass shootings.
Politics + Society
| | | |
| --- | --- | --- |
| Maps can be an invaluable tool in a natural disaster or humanitarian crisis. A pilot project trained Syrian refugees at a Jordan camp to create their own. | | The Venezuelan opposition is asking people not to vote in the country's May 20 election, which they call a 'farce.' President Maduro regime has jailed or blacklisted most of his competitors. |
Education
Better funding, integrated neighborhoods and a diverse teacher workforce are among the things needed to dismantle a long-standing racially segregated school system, a scholar argues.
Economics + Business
| | | |
| --- | --- | --- |
| A new program uses tax incentives to encourage investors to help revitalize low-income communities. Research on similar programs from the past suggest it doesn't work to reduce poverty. | | Many are wondering what Facebook, Twitter and even the government can do to stop the spread of fake news. Behavioral science has an answer: the Pro-Truth Pledge. |
Health + Medicine
| | | |
| --- | --- | --- |
| The sexual revolution made it acceptable for women to have premarital sex. Yet, an orgasm gap remains. Addressing the cultural forces driving this gap has social implications beyond pleasure itself. | | In the largest citizen science experiment to date, 11,336 people sent poop samples to this San Diego lab so that microbiologists could figure out how the microbes in our guts make us healthy or sick. |
Science + Technology
| | | |
| --- | --- | --- |
| Astronomers are gathering an exponentially greater amount of data every day – so much that it will take years to uncover all the hidden signals buried in the archives. | | It can be unpleasant to be mistaken for someone of a different gender. When an algorithm does it secretly, it's even more concerning – especially for transgender and gender-nonconforming people. |
Ethics + Religion
| | | |
| --- | --- | --- |
| Food plays an integral role during the 30-day period of Ramadan. This Speed Read explains how Muslims determine what foods are 'halal,' an Arabic word that means 'permissible.' | | Middle-class houses in the US have grown ever larger. The average single-family home is almost twice the size of a home in the 1960s. It's time to consider the downsides of sizing up. |
Environment + Energy
| | | |
| --- | --- | --- |
| Chytrid fungus has caused a global "amphibian apocalypse," killing frogs worldwide. Now some appear to be evolving resistance – but a closely related fungus threatens newts and salamanders. | | Several states, including Massachusetts, have developed ambitious renewable energy targets that hinge in large part on getting their power from turbines stationed in the water. |