Editor's note
Since President Trump took the United States out of the Paris climate agreement a year ago, initiative to curb climate change has shifted to U.S. cities. Most mayors who are outspoken on the issue are Democrats, but Nicolas Gunkel, a research fellow with Boston University's Initiative on Cities, took a look beyond the photo ops. He found that many Republican mayors support policies that help cut carbon emissions – but they have their own ways of framing the problem.
What's an organ-on-a-chip? Labs around the country have developed these devices to better mimic how our cells live and respond in systems inside our bodies. Researchers from the University of Washington explain how their own kidney-on-a-chip improves on older methods for testing the effects of potential new drugs.
Trump's decision to abandon Paris also irked a lot of corporate chiefs, such as Apple's Tim Cook. In fact, many of the president's policies have been at odds with the public positions of America's business leaders. Does that suggest corporate America is ready to abandon Trump? To test the waters, American University's Erran Carmel and Chris Edelson analyzed news stories, tweets and quotes of about 200 of the most powerful CEOs in the country.
Jennifer Weeks

Environment + Energy Editor
Top stories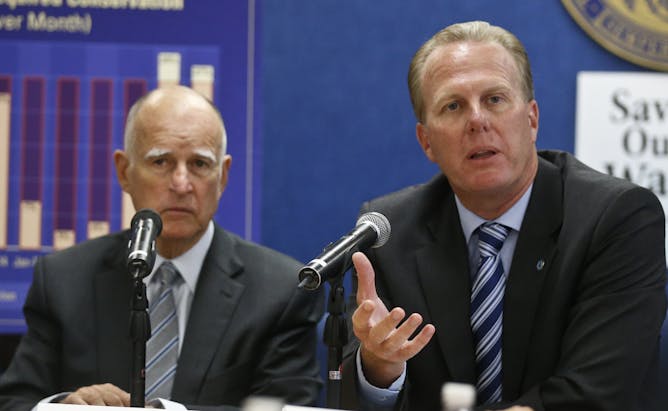 They may not say 'climate change,' but many Republican US mayors support clean energy, jobs in renewable industries, and other climate-friendly policies. And so do majorities of their constituents.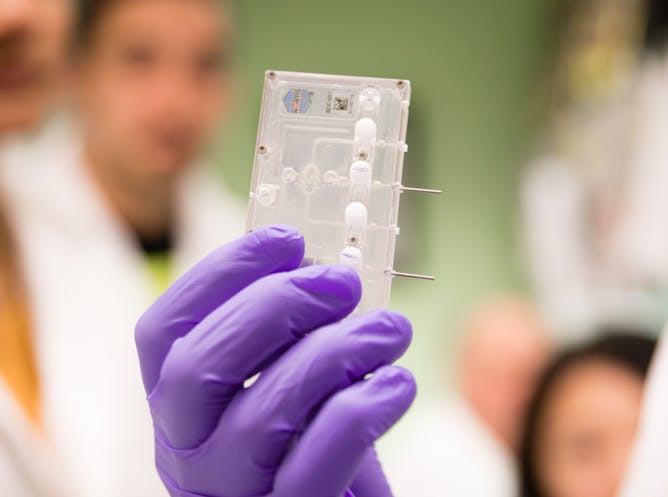 Researchers who've created a kidney-on-a-chip explain why these kinds of devices are an improvement over traditional ways to test new drugs.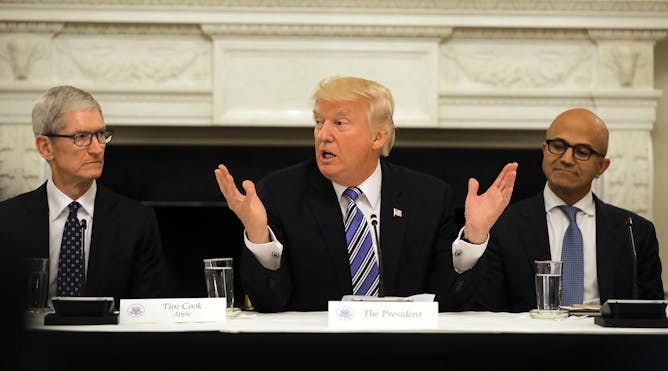 Despite a growing list of reasons why business leaders might oppose the president or his policies, more than two-thirds have remained steadfastly neutral.
Health + Medicine
The number of births in the US is down 2 percent. That pops the country's 'fertility bubble' – and brings numbers closer in line with peer countries.
Politics + Society
Two candidates from Colombia's May 20 presidential vote will face off on June 17. One is a former guerrilla. The other is a hard-liner. Their views for the nation's future couldn't be more different.

A desk is a place to work. But it can also be a symbol of prestige and power, as EPA administrator Scott Pruitt has demonstrated in his choice of expensive and ostentatious desks for his office.
Arts + Culture
Spanish-speaking writers have made exceptional contributions to American literature. Here are the best Latin American and Latino authors you probably haven't heard of.
Science + Technology
Several giant terrestrial Plathelminth species have invaded France and its overseas territories, threatening biodiversity. Thanks to participatory science, the invasion is finally recognized.
Trending on site
A particle physicist explains just what this keystone theory includes. After 50 years, it's the best we've got to answer what everything in the universe is made of and how it all holds together.

Pope Francis recently acknowledged that the Catholic Church is struggling to recruit new priests, endangering its very future. Why don't people want to join the clergy?

Hundreds of court cases show that companies are using features of timekeeping software to shortchange workers, a few minutes at a time.